IMPORTANT!
We have been welcomed onto sacred land, in a pristine mountain community. We work here, play here and build community here. It is our hope at Bonfire Entertainment to stand up to our reputation as environmental stewards and responsible community partners and to return year after year.
We are working with Clean Republic on infection prevention and control by providing each vendor with Clean Republic Disinfectant + Sanitizer. We will also place touchless hand dispensers in high-traffic areas for quick and convenient hand cleansing, and will provide guests and artist with a personal on-the-go all-purpose cleaner. Clean Republic Disinfectant + Sanitizer kills 99.9% of viruses and bacteria, including the Covid-19 virus in 60 seconds on hard, non-porous surfaces. Clean Republic is pH neutral, formulated with just salt, water and electricity, and free from harsh chemicals and fumes, making it people, pet and plant friendly.
We kindly ask you for your help in keeping Renewal safe, clean, and positive, while protecting wildlife, supporting local business, and spreading kindness to the neighbors.
COVID-19 SAFETY PROTOCOLS
We 100% support your right to choose your path related to COVID-19, but we need to follow some simple guidelines set forth by our community partners, Chaffee County and Bonfire Entertainment to safely ensure the show goes on. 
The County is allowing us to gather and bring together 5,000 people. So long as we respect the local guidelines and keep our small mountain host community safe, we will all get to enjoy two nights of Billy Strings, and be invited back!
It's pretty simple, all fans will be required to submit proof of vaccination electronically or present it; or proof of a negative test within 48-72 hours of the show, 4 pm Friday, September 24th. The card or test results must match your government issued ID and will be checked while you are in your car, prior to entry. For children attending, see below.
For children ages 5-11, a negative test within 72 hours of entry is required.  

For children ages 12 & up, proof of vaccination or a negative test within 72 hours of entry will be accepted.  

For those 4 years of age or younger, no test is required. 
PRE-CHECK 
For a seamless entry, please upload your vaccination or negative test now using the QR code below. We'll already have you covered when you check in on-site!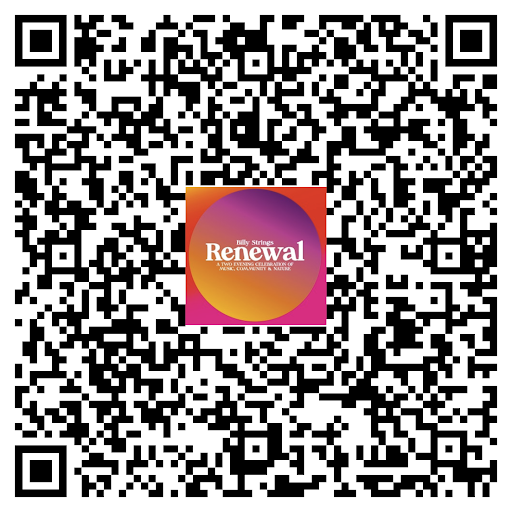 For those who cannot interact with the QR code, please use the HealthShield chatbot. To get started, text "Hi" to 855.515.2549!
Our staff will also be required to show proof of vaccination or a negative test. Plus we will be regularly sanitizing all public surfaces and restrooms.
MASKS
With over 100 acres to congregate, everyone can have more than six feet of space. However, if you are in a crowd we encourage you to wear a mask. If you see someone wearing a mask, and you are not, please smile, you never know what circumstances or pre existing conditions your fellow Renewal fans may be facing, now is the time to support each other!
FEELING SICK
Please stay home, get tested and take care of yourself. Shoot us an email and we will assist in selling your ticket!
ASSUMPTION OF RISK
You must follow all Bonfire and Chaffee County policies, including health and safety policies and posted instructions around the venue. An inherent risk of exposure to COVID-19 exists in any public place where people are present. COVID-19 is an extremely contagious disease that can lead to severe illness and death. According to the CDC, senior citizens and those with underlying medical conditions are especially vulnerable. 
By entering the concert grounds, you've voluntarily assumed all risks related to exposure to COVID-19.
HERE are local Chaffee County guidelines – Our partnership with the community follows any local protocols and requirements. We believe in personal responsibility and look to you, our community, to assist in keeping the event safe and possible
KEY POINTS (FAQS BELOW)
On site food options, clich HERE – we have some amaing local trucks

The Renewal site opens at 10:00 am Friday, September 24 for people with CAMPING PASSES ONLY

The Renewal site opens at 1:00 pm Friday, September 24 for those that are DAY PARKING (Day parking is $10/day), the lot will close at Midnight

RV Generators are allowed from 8 am until 10 pm

No amplified music in the campgrounds after 10 pm

No RV hook ups on site

Vans do not need an RV pass

Fans with camping passes do not pay the daily parking fee

Concert gates are open 4:00 pm – 11:45 pm on Friday and Saturday

Food trucks and full bars are located only in the concert venue

Food trucks will be at The Pond, Saturday afternoon, outside the concert venue gates

The site will be closed on Sunday at 5:00 pm

Fires – Absolutely no fires in the campground

Quiet Hours – We kindly ask to be mindful of the neighbors

Instruments are welcome in the campgrounds, not the concert venue, no amplified music

Bring your bike – the site is large and bikes are a great way to get around

No outside alcohol is allowed in the concert venue, you may bring your own to the camping areas, please no glass, and please recycle 

You may bring food and chairs into the venue – no coolers or outside alcohol

First aid is located at the main entrance and venue entrance – 24/7

No ATM on-site – the bar is cashless

Volunteer! Email us at Nina@bonfirentertainment.com for more information 

Security will be on 24/7

Cell phone service may be spotty
FAQ'S
TICKETS
How do I get tickets for Renewal?
Tickets for Renewal are available exclusively at bonfirentertainment.com/renewal
If you get shut out, how do ticket requests work?
Worry not! Head to renewal.lyte.com and select from available ticket options. You can edit your order while tickets are found. Enter your payment info to request tickets, and you'll only be charged once tickets are available. WE SET MANY SYSTEMS IN PLACE TO KEEP TICKETS OUT OF THE HANDS OF SCALPERS – LYTE IS THE ONLY AUTHORIZED SPACE TO BUY AND SELL TICKETS.
I have tickets in Bonfire Club. What does that mean??
Check out all of the Bonfire Club details HERE.
I got tickets but can't attend. Is Renewal offering refunds?
There are currently no refunds being issued for Renewal.
How do I return/sell back my ticket(s)?
To return your ticket(s), visit renewal.lyte.com. You will then enter the email associated with your order and select the ticket(s) you'd like to return. Your offer will be based on demand. If we can't make an offer, we'll be in touch as demand increases.
If I sell my ticket back, how and when do I get paid out?
Your payout will be processed within 60 days to your PayPal or bank account. Depending on processing times, it may take up to 7-14 business days for the funds to reflect in your account.
Is there a fee for children and seniors?
Children under 10 and seniors over 70 are free to attend.
What is included with the BONFIRE CLUB ticket?
Tickets include a private hillside yard and entrance with stage views, a private bar, 4-5 pm complimentary happy hour, dinner and snacks created by a local chef, private bathrooms, and fire pits (pending fire ban status).
Do GA or VIP passes include camping?
No, camping is to be purchased separately.
I'm coming in for the day and leaving at night. Is parking free?
Parking for the day only is $10 per day. Day parking opens at 1 pm each day and closes at midnight.  
I am arriving late, can I park at my campsite?
In order to keep everyone safe, if you arrive later than 9 pm you will be parked temporarily near Buck Moon Campground. At 8 am the following morning you can move your car safely. We will make every attempt to accommodate your late arrival.
What are box office hours?
The box office is open Friday and Saturday from 9:30 am – 10:00 pm
Where is the box office located?
The main box office is located just past the entrance, off CO Rd. 350. Here you will get parking, camping, and concert credentials. Additionally, there will be a small box office at the concert gates where you will show credentials and be searched upon entry.
What is the ticket and wristband policy?
Wristbands will be distributed on-site upon arrival and the scanning of your ticket. Wristbands are not replaceable and must be kept on for the duration of the weekend.
CAMPING
How do I book camping for Renewal?
Camping must be booked at the point of purchase alongside Renewal tickets. If you did not book camping and wish to add, please email us info@bonfirentertainment.com.
I have my camping zone. Now what?
Once you've chosen your camping zone, the hard part is over. All camping, designated by zone, will be available on a first-come, first-served basis. For all sites except Flower Moon, you can car camp, pitch a tent next to your car. 
Can I save camping spots for friends?
If you want to camp together, arrive together. You can save tent spots but not parking spots.
Is parking included in the cost of camping?
Day parking for those not camping will be sold for $10 cash on-site. Those with camping passes do not pay the parking fee. NO CAMPING IN THE DAY LOT.
Can I leave my car overnight in the day parking lot?
No. If you plan to stay overnight you need a camping pass.
Can I move my car once in the camping lot?
While we are encouraging people not to move their cars in an effort to keep dust and traffic down, we do understand the need to enter/exit. Please let those parking you know that you intend to move your car so it can be handled easily.
Is there a quiet camping area?
Yes, the Harvest Moon area is designated with quiet hours. We do not allow any amplified music in the campgrounds anywhere.
Does BV have rideshare?
The town is very small and currently has limited ride-sharing. 
I have an RV pass. Where do I go on-site?
With your RV pass, you will be directed to a parking location according to your ticket designation. RV parking is first-come, first served.
What is allowed and not allowed at Renewal and in the camping and RV zones?
No framed or large backpacks
No flyers or marketing material
Can I build a fire at my campground?
No fires are permitted.
EVENT DETAILS
Where is Renewal taking place?
Renewal will be held at the Meadows in Buena Vista, CO, approximately 2hr 30min from Denver.
When is Renewal?
Renewal will take place Friday, September 24, and Saturday, September 25, 2021.
What artists are performing at Renewal?
Renewal will feature performances by Billy Strings plus special guests.
Can I buy a day pass?
No. Only two-day passes will be available.
What if the event is canceled?
In the case of a cancellation, you will have the opportunity to roll your ticket over to the makeup date or request a full refund.
Is there a map of the event and camping grounds?
Yes. The map may be found HERE
Where is lost and found at the event?
Front gate box office.
ADA and accessibility?
Please email us directly so we may assist you on-site. There will be ADA bathrooms placed in all campgrounds and the venue. There will be a dedicated ADA area next to the front of the house soundboard, temporary ADA parking will be located near the main venue entrance. Staff will have a dedicated golf cart to shuttle from 4-6 pm and 9-11 pm.
How do I apply for a media pass?
Please contact info@bonfirentertainmment.com for questions on obtaining a media pass.
Can I bring a service animal?
With proper documentation, poop bags, and a leash.
How do I get to the event?
Renewal is located on the Meadows in Buena Vista, Colorado. The town is approximately 2hr 30min from Denver by way of 285 or by way of Highway 40 if coming from Vail. The Meadows address is 14998 Co Rd 350, Buena Vista, CO 81211. You will be directed by traffic signs and flaggers on the day of the event.
What if there's weather at the event?
Renewal will be held rain, snow, or shine!
How hot will it get in the day, and how cool at night?
Fall weather in Buena Vista can be warm (in the 70s) during the day, and cool (down into the 40s) at night. Please be prepared with layers, including closed-toed shoes, a rain jacket, and a puffy jacket.
Are there showers and other amenities on-site?
No. All camping is primitive.
How close is the nearest town?
Renewal will take place just a few minutes by car from Buena Vista, Colorado. We encourage all attendees to take a spin through town, safely, to visit local breweries and shops.